Fluval FX4 Aquarium Canister Filter
Building on the mighty FX performance and reliability platform, the all-new FX4 high performance canister filter is a compact 'little brother' to the FX6. The FX4 bridges the gap between the Fluval 406 and the FX6 canister filter, making it an ideal choice for aquariums up to 250 US Gal (1000 L).
Key Features :
Multi-stage filter pumps out 700 gallons (2650 L) of water per hour

Smart PumpTM - advanced microchip technology continuously monitors and optimizes pump performance 

Self-starting - just add water, plug in and Smart PumpTM will take over. Trapped air auto-evacuated every 12 hours to ensure maximum efficiency

Easy water changes eliminate need to carry heavy buckets. Simply attach hosing to output (Kit sold separately) and Smart PumpTM does the rest

Removable, stackable media baskets eliminate water bypass and hold a total of 1 gallon (3.9 L) of media

All filter media included - mechanical, chemical and biological

Aqua-Stop valves with leak-proof Click-Fit attachment system

Valves positioned at convenient 45-degree angle for easy installation and rotation

Anti-clog, telescopic strainer ensures continuous water flow

Multi-Directional Output nozzles can be fully adjusted to create customized water flows

Utility Valve with drain hose for easy maintenance and flushing of canister

Rubberized feet help ensure quiet operation 

Compact 16.5" tall design - easily fits under most aquariums

Made in Italy 

For use in freshwater and saltwater aquariums

Dimensions 15.75 x 15.75 x 16.5 Inches

Designed for aquariums up to 250 gallons

700 Gal/hr flow rate 

Whats Included:
Ribber hosing

Rim connectors, clips and suction cups

Intake stem

Output nozzle

Lid fasteners

Filter canister

Utility valve and hosing

Drain cap

Pump unit (motor) and power cord

Rubbert feet

Media baskets

1/2 media baskets

Filter lid and accessories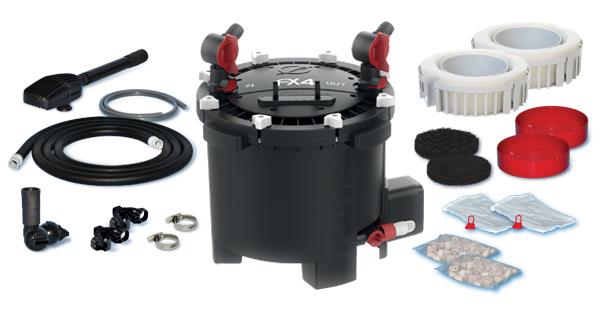 3 Year Limited Warranty
The Fluval FX4/FX6 High Performance Canister Filter is guaranteed against defects in material and workmanship under normal aquarium usage and service for 3 years from date of purchase. Non-replaceable and non-serviceable parts will be repaired or replaced at Rolf C. Hagen Inc.'s discretion, free of charge, when the complete filter is returned with all components along with a valid proof of purchase and postage paid. This warranty does not apply to any filter that has been subject to misuse, negligence or tampering. It does not apply to filters which have been incorrectly assembled or unsuitably maintained or where installation and maintenance instructions have not been followed correctly. The warranty does not apply to wear and tear parts such as the impeller, impeller cover or motor seal. No liability is assumed with respect to loss or damage to livestock or personal property irrespective of the cause thereof. Before returning the filter under warranty terms, please ensure that all setup and maintenance instructions have been followed. If you are in doubt, please contact your local aquatic specialist retailer for further advice before returning the product. THIS DOES NOT AFFECT YOUR STATUTORY RIGHTS.
You may also like